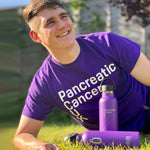 Pancreatic Cancer UK - Limited Edition Charity Runbott
We're proud to be supporting Pancreatic Cancer UK during 2021.
We will donate £4.99 to Pancreatic Cancer UK for every PCUK Runbott sold.

At Runbott we are really excited to be partnering with Pancreatic Cancer UK to raise vital funds throughout 2021 and join the fight against cancer. 
More than half of people diagnosed with pancreatic cancer die within three months. Survival rates have improved enormously for most cancers but sadly, for pancreatic cancer, this is not the case.
But there is hope.
Pancreatic Cancer UK is the only UK charity dedicated to taking on this injustice using every possible means. They are supporting people with pancreatic cancer now through its specialist nurse run Support Line and expert information, but also campaigning and funding vital research to transform the future. 
In partnership with Pancreatic Cancer UK we have designed a bespoke Runbott bottle and we will donate £4.99 of every bottle sold to Pancreatic Cancer UK, a registered charity in England & Wales (1112708) and Scotland (SC046392).